February 21, 2013 12:00 pm

Here's a great article on 10 Best Lesbian Films Ever. The list is about the best lesbian movies ever made.
The best lesbian movies ever made
We've all had that moment – the time where we're sitting around with our friends, discussing our favorite movies, when someone in the group quietly admits that she hadn't seen it. If you're anything like me, your knee-jerk reaction is to shout as loudly as as you can, "WHAT??? You haven't seen (fill-in-the-blank)?!?!?!?! How the HELL is that even possible?"
As it turns out, its nearly unavoidable when it comes to lesbian movies. There are so many titles to choose from that its almost impossible to have seen them all. The L Stop crew voted on over 100 titles to come up with our top 10 favorites (in order):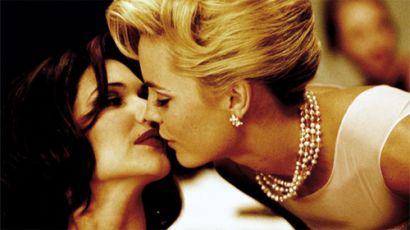 1. Lost & Delirious (2001)
I was 18, had just come out and going to a local community college. I picked up a stack of local newspapers and zines in the school library. I casually flipped through one of the papers, then I saw her face. I paused, wiped the drool off my face and then looked to see what this movie was about. "Lost and Delirious" starring Piper Parabo and Jessica Pare. Oh my god, which one is she? Her name is Piper Parabo. Beautiful, the girl of my dreams. Then I read the description. What? Lesbians? Her?!
I called up my best friend, Andrew, and we knew what we had to do. We had to go to gayville aka Boystown, to find this film. It was one of our first trips there and it was exhilarating. We stepped out of the car and it was like "look at me world, I'm a gay and I'm buying a gay film". That's what it's like, when you first go to Boystown, and you're gay. My heart was racing and my palms were sweaty the whole time.
Then came actually watching the film. Beautiful, haunting, heart-wrenching, and poetic. It reassured me that this kind of love does exist and others go through it. It's ok to be gay.
Best quote of the movie:
Liar! Liar, Liar, Liar! You've all got your heads up your assholes because love is. It just is and nothing you can say can make it go away because it is the point of why we are here, it is the highest point and once you are up there, looking down on everyone else, you're there forever. Because if you move, right, you fall. You fall.
One of the highlights of 2011 for me was to meet Piper Perabo at the HRC Gala and tell her all this in person.
2. The Kids are All Right (2010)
I think Lisa Cholodenko did a great job in writing and directing The Kids Are Alright. It's one of the reasons why I like the film. I thought the actors did a great job, overall. They made you believe the storyline. Another reason would have to be because it's a story about a family that goes through a fucked up point in time, as a whole. It's something that's relatable for both homosexuals and heterosexuals. Life isn't perfect. I know, it sucks that it's another movie in which a lesbian sleeps with a dude. Unfortunately, that's mainstream Hollywood. But, overall, I think the film did a great job at showcasing a family with same sex parents that live a normal life and raise two children, who are completely normal.
3. Imagine Me and You (2005)
Imagine Me & You is a British-American romantic comedy that will always be at the top of my favorites list even though that damn Turtles song ends up stuck in my head for weeks! The film follows the relationship between Rachel, Piper Perabo (hot!) and Luce, Lena Headey (double hot!), who meet for the first time on Rachel's wedding day. This newlywed bride befriends Luce and eventually becomes infatuated with the florist and begins questioning her sexuality and her marriage. While the movie follows the typical rom-com story line, you don't really care because you're too busy falling in love with the two beautiful lead actresses, the super-hot British accents, and the witty supporting characters.
4. Bound (1996)
What can I say about this 1996 showcase of a neo-noir-crime-sexy thriller?? Oh – I know – GINA FUCKING GERSHON….damn she is just impossible for me to take my eyes off of. The direction of this film is so unique and border line Hitchcockian that is pulls you through the film and drags you inside. I fell in love with Gina Gershon playing Corky (I know – stupid name). I fell in love with Jennifer Tilly as Violet (my God – that voice – that mouth – that scene on the couch) – and I wanted to kill Joe Pantiliano as he rocked the roll of Caesar (Fuckin' dark in here). The chemistry between the actors in this film is spot on – and all I can really say is Gershon in a flannel – drinking a beer with that dangerous mouth of hers had me pushing the pause button for what was surly an unhealthy length of time. Love this movie.
5. D.E.B.S. (2004)
This 2004 film evolved from a comic strip, into a short film, and finally into a full feature. A winning combination of But I'm A Cheerleader-esque campiness with superhero/villain sex appeal will keep you both interested and amused. It might be the schoolgirl skirts that pique your interest, but Lucy Diamond's (Jordana Brewster) smirk and mischievous eyes will make you drool. While the sex scenes rate too far on the innocent and sweet side for me, the fantasy of an evil villain kidnapping and cuffing me to her bed is enough to put this on the top of my list.
6. But I'm a Cheerleader (1999)
It's a romantic comedy about a straight cheerleader in high school who is sent to an LGBT rehabilitation center because her friends and family suspect that she is a lesbian. The idea of being sent to a camp to be cured of your lesbianism is just hilarious in itself. The 5 step program that they use to cure people sounds great in theory to the hetros that put it together, but of course a camp with a bunch of gays is just going to lead to love and a good dance party. The set design and costumes are pretty amazing too.
7. The Color Purple (1985)
I love the Color Purple because it is one of my favorite films, and it has queer themes. The love for another woman's beauty and intelligence is not overt, but there is clearly a strong sexual attraction that also empowers a female friend to embrace her right to enjoy sex.
8. Saving Face (2004)
I love this movie because it's one of the few LGBT movies that feature Asian Americans, as LGBT Asian Americans (and Asians and Asian Americans in general) are largely absent and invisible in the media. "Saving Face" not only brought visibility and awareness for the LGBT Asian American community, it also did a great job portraying the importance of identity, pride, and filial piety in Chinese families. Additionally, the contrast between having one partner still inside the closet and having a secret and "taboo" love affair was well portrayed. And, I'm a sucker for happy endings–it leaves you feeling good and hopeful about the world's growing acceptance of LGBT people.
9. Tipping the Velvet (2002)
This 2002 UK miniseries takes place in the 1890s. It is an adaptation of Sarah Waters' book by the same name about seaside waitress Nan Astley (Rachael Stirling), who sees a show starring male impersonator Kitty Butler (Keeley Hawes) and at once becomes enthralled enough to leave her life behind to go on the road with Kitty. The story is about Nan's journey of highs and lows and how she comes to realize that sensation alone just isn't enough to build a life upon. There are great love scenes in this movie.
10. Itty Bitty Titty Committee (2007)
If you have read my column you would see exactly why I love this movie- other than the title. A young and lost Anna joins the radical feminist group Clits in Action (C(i)A), leading to a string of events that end in one big Fuck You to sexism and the "Man". While the activism in the movie isn't the most credible, it puts a funny and rebellious twist to the normal lesbian flick- mixing the punk with the lust and the radical with the babydyke. If you're in the mood for a movie that doesn't conform to the norms of mainstream or PC cinema, check this one out. Want to enhance your experience? Make yourself a nice cuppa Wild Turkey and you'll fit in just fine.
Source: http://thelstop.org/2011/12/the-best-lesbian-movies-ever-made/
For more hot, sexy and erotic stories visit http://www.allwomenarebisexual.com or hop in to my personal erotic website @ http://www.suzybauer.com/
Remember to Download your FREE copy of Suzy Bauer's Comprehensive Guide Exposing The "Secret Hideouts"
TAGS: Entertainment, Lesbian, lesbian girls, lesbian women, lesbians, review, sexy lesbians