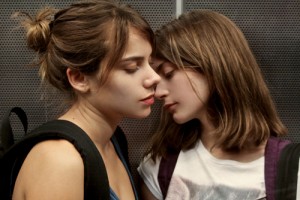 I found this interesting and erotic article. It's about Lesbian dating a Bisexual.
"Good day!
So I've been with this girl for about 6 weeks. She's been my official girlfriend for almost 3 weeks. I've known her since freshman year of college but we never really hung out or communicated much until this year (both of our jr year). She made the tennis team at our school (I've been on the team since freshman yr) so we started hanging out a lot. I never knew she liked women until like mid-season.
My teammates always joke about the whole team being gay only on the weekends and that I've made everyone on the team my 'boo' but it was always an understood joke. Well, this past spring break I really noticed how much i liked her and i made every joke about her being my 'boo' and how nobody else mattered cause i really wanted her. Of course it was seen as a joke and it wasn't really spoken of again after the trip. The night before we were to leave on a trip to a tournament I asked her if she'd be my gf. She said no b/c she thought it was another joke. I told her i was serious. She kissed me as she was leaving b/c she still hadn't packed and had to go do so. The whole trip i slept in her room and sat with her on the bus to and from the courts and hotel. But she wasn't my gf still…we were just kickin' it.
Now, here is(are) the problem(s). She's newly bisexual (kinda) and i'm her first girlfriend even though she's liked girls before. She's amazing and smart but she has a lot of guy friends b/c of the sorority she's in. It kinda worries me but we've talked about it with no solution except i have to trust her until she gives me reason not to. The real reason i wrote this is b/c i'm starting to feel like i'm falling in love. It scares me b/c i've had two previous failed serious relationships in the last 4 yrs due to cheating or suspicion of cheating. Am i just being overly cautious or should i just go for it and tell her how i feel?"
Read more Bisexual Stories!
TAGS: bisexual, bisexual women, bisexuality, erotic stories, hot girls, Lesbian, sexy women, woman bisexuality